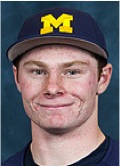 BATTLE CREEK, MI- The Battle Creek Bombers have signed infielder Dylan Delaney out of the University of Michigan for the 2012 season.
Dylan Delaney: 5'11-170, R/R, IF, University of Michigan (Fr.), Woodland Hills, Calif.
Dylan is currently competing in his first season with the Michigan Wolverine baseball team. Dylan is hitting .201 with 17 runs, four doubles, two home runs and 14 RBI's. His early highlights include a 3-3 outing and the game winning run against Northwestern and a 2-3 outing with a run scored against Toledo. Head baseball coach Rich Maloney describes Dylan as, "a very gritty player" with "a solid bat" and a "good line drive gap hitter".
Dylan attended Chaminade Preparatory High School, where he was a member of Chaminade Prep's National Honor Society and earned three varsity letters in baseball. Dylan was First Team All-California Interscholastic Federation Mission League and Second Team All-CIF Southern Section Division 2 during his junior season when he hit .534 with 20 doubles, four triples, five home runs and 31 RBI's.
The Battle Creek Bombers are members of the prestigious Northwoods League that has more teams, plays more games, and draws more fans than any other summer collegiate baseball league in North America. The team is set to kick off their 6th season in Battle Creek on June 1st with a Fireworks display and 2011 Championship celebration. For tickets call
(269) 962-0735
or visit BattleCreekBombers.com.