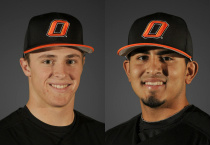 WAUSAU, Wis. (May 8, 2012) – This weeks' player release features a pair of freshman from Oklahoma State University. Shortstop Mike Bernal (right) and utility man Gage Green (left), both freshmen for the Cowboys this season, will both look to make an impact on the 'Chucks roster this season.
Green, a multi-position player, has been used mostly for his defense this season for the Cowboys. He was a four-year letter winner for Rider High School in Wichita Falls, Texas. He was an all-state selection his junior and senior year. His senior year he hit .493 and helped lead his team to a 4A state title.
Bernal, a redshirt this season, also enjoyed a successful high school career. A four year letter winner, he hit .450 his junior year, with 7 home runs and an on-base percentage over .500. His senior year, he hit .427 with 25 RBI and was named first team all-district shortstop. He was heavily recruiting out of high school, receiving offers from TCU, Baylor, Utah and Dallas Baptist, among others.