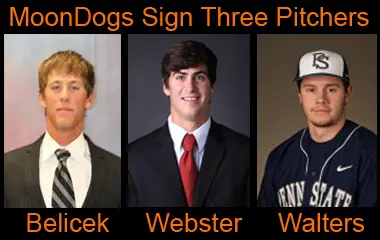 MANKATO, Minn. (May 9, 2012)–The Mankato MoonDogs Baseball Club, a member of the Northwoods League, is pleased to announce the commitment of pitchers Trevor Belicek, Seth Webster and John Walters to play for the MoonDogs in the 2012 season.
Belicek, a six-foot-three-inch, 210-pound freshman of Texas A&M-Corpus Christi is in his first season with the Islanders. Before attending A&M-Corpus Christi, Belicek went 5-4 striking out 82 batters and posting a 2.92 ERA to close out his high school career at Uvalde (Texas). In his limited appearances for the Islanders this spring, Belicek is holding a 2.57 ERA as a reliever.
"Trevor is a left-handed pitcher with a lot of upside and has the potential to either start or come out of the bull pen for us," said Field Manager Mike Orchard.
First-Team All-Southland Conference Selection, Webster, a six-foot-five-inch, 220-pound redshirt junior of Nicholls State University (Thibodaux, La.) completed his 2011 season in honors. Along with being named first-team, Webster was ranked third in the NCAA and was named Southland Conference Pitcher of the Week three separate times.
"It is nice to bring Seth on board with us this summer because of his experience," said Orchard. "He's an effective pitcher that's been around the plate and trusts his off-speed."
Webster is currently 5-4 for the Colonials striking out 46 batters.
Walters, a six-foot-five-inch, 220-pound junior of Penn State University was named to the Third-Team All-Big Ten Honors after his 2011 season. The Haddonfield, N.J. native was also the recipient of the Ed Drapcho Award as Penn States Most Improved. In 2012, Webster leads the Lions in strikeouts with 60.
"John is a big body guy that can compete at a high level. He has dominate velocity, throwing anywhere between 90 to 94," said Orchard. "We'll be able to make good use of his fastball."
The MoonDogs home opener is scheduled for Friday, June 1 at 7:05 p.m. against the St. Cloud Rox at Franklin Rogers Park. Season and single game tickets are now on sale at the MoonDogs office located at 1221 Caledonia Street. For more information, visit our website www.mankatomoondogs.com or call the MoonDogs office at 507-625-7047.