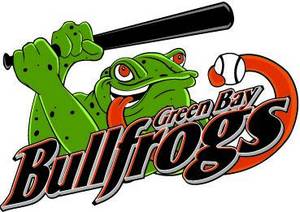 FROGVILLE, Wis. (May 9, 2012) — The Green Bay Bullfrogs are pleased to announce they have continued their relationship with Samford University with the signings of Freshmen Cole Limbaugh and Caleb Dugas for the 2012 season. Samford continues to establish itself as one of the finest programs in the Southern Conference. The Bulldogs finished 37-23 in 2011 and have currently won 9 of 10 games to improve to 30-16 in the 2012 season. Last season, Samford players Phillip Ervin, Tyler Filliben and Josh Martin were all key contributors to the Bullfrogs' return to post-season play.
Cole Limbaugh turned down the opportunity to enter pro baseball after being drafted out of high school by the New York Mets last summer. A right-handed pitcher, the 6'4" Limbaugh has made six appearances, including four starts, for Samford this spring. The Childersburg, Ala. native has allowed opponents to hit just .241 against him and has posted a 1-1 record. A three-sport athlete in high school (football, basketball and baseball), Limbaugh finished third in his graduating class.
Caleb Dugas arrived at Samford following a tremendous prep career at Northwest Rankin High School. The Flowood, Miss. native was named his team's MVP as both a junior and a senior. Dugas is expected to provide tremendous versatility to the Bullfrogs lineup this season with most of his action expected to be at second and third base. Dugas will also bring the ability to catch. Dugas has appeared in seven games and has 15 at-bats for Samford this spring.
"Samford has an extremely deep and talented team in 2012," Bullfrogs Field Manager Jordan Bischel said. "Because Cole and Caleb have had limited opportunities this spring as Freshmen, I expect them to really surprise people in the Northwoods League. Coach Dunn and Coach Taylor at Samford have committed to sending some of their most talented players and it showed with the performances of Phillip Ervin, Tyler FIlliben, and Josh Martin last season. I cannot wait to start working with these two young men."
The Bullfrogs are also pleased to announce the signing of Mason Snyder, a Freshman infielder at the University of Louisville. From 2007-2011 Louisville amassed the 12th most wins in all of Division I baseball and appeared in four NCAA tournaments. Louisville is currently ranked #22 nationally by Baseball America .
Mason Snyder arrived at Louisville ranked as one of the top 250 players nationally by Perfect Game. The Ottawa, Ill. native has quickly justified his lofty ranking. Playing part-time on a crowded Louisville infield, Snyder has hit .314 with 6 doubles, 2 triples, and 13 RBI's for the Cardinals. Snyder has appeared at third base, second base, left field, and designated hitter in his 32 appearances.
"It is an honor to start a relationship with the University of Louisville," Bullfrogs Field Manager Jordan Bischel said. "Mason is one of the top young players on Louisville 's roster and will have an opportunity to play close to home this summer. He will be a productive offensive player for us while having the flexibility to play a number of defensive positions."
The Bullfrogs open up their 6th season in FrogVille, Wis. on May 30 at 6:35 p.m. against the expansion Lakeshore Chinooks. Please call 920-497-7225 or log on to www.greenbaybullfrogs.com for more information.
The Green Bay Bullfrogs are a part of the 16-team Northwoods League. The Northwoods League has more teams, plays more games, and draws more fans than any other Summer Collegiate League in North America.