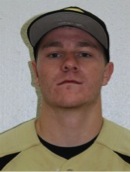 BATTLE CREEK, Mich. (May 9, 2012) — The Bombers are thrilled to announce the signing of sophomore outfielder Colin Willis of Purdue University North Central.
Colin is currently competing in the Chicagoland Collegiate Athletic Conference Tournament with Purdue University North Central. Colin turned in an incredible season leading his team in batting average with a scorching .434, ranking him ninth in the entire National Association of Intercollegiate Athletics (NAIA). In addition, Colin lead his team in runs with 61, hits with 86, triples with four, and stolen bases with 27. Colin also added 31 RBI's and had a .551 slugging percentage.
The Battle Creek Bombers are members of the prestigious Northwoods League that has more teams, plays more games, and draws more fans than any other summer collegiate baseball league in North America. The team is set to kick off their 6th season in Battle Creek on June 1st with a Fireworks display and 2011 Championship celebration. For tickets call (269) 962-0735 or visit BattleCreekBombers.com.