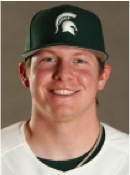 BATTLE CREEK, Mich. (May 11, 2012) — The Bombers have signed junior infielder Jared Hook out of Michigan State University for the 2012 season.
After his breakthrough sophomore season with the Michigan State Spartans, Jared is currently the primary designated hitter for the 2012 collegiate season. Jared is currently aiding the Spartans to a 27-15 record by hitting .282 with five doubles, one triple, one home run and 19 RBI's.
During his sophomore season, Jared hit .341 with 59 hits, seven doubles, 30 RBI's while hitting .417 with runners in scoring position. Because of his performance, Jared was named Third-team All-Big Ten and ranked fifth on the team and tied for 12th in the Big Ten in batting average.
Many in the this area may be more familiar with Jared's dad, Robin Hook, the voice of the Western Michigan Broncos. Robin Hook handles play-by-play duties for football, along with men's and women's basketball and hockey.
The Battle Creek Bombers are members of the prestigious Northwoods League that has more teams, plays more games, and draws more fans than any other summer collegiate baseball league in North America. The team is set to kick off their 6th season in Battle Creek on June 1st with a Fireworks display and 2011 Championship celebration. For tickets call (269) 962-0735 or visit BattleCreekBombers.com.