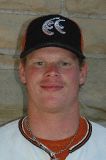 EAU CLAIRE, Wis. (May 30, 2012) — Eau Claire Express third baseman Josh Scheffert was named the Northwoods League Player of the Night for Wednesday, May 30.
Scheffert dominated Wisconsin pitching by recording three hits in five at-bats and knocking in all four of Eau Claire's runs in the game. In the bottom of the third inning, with the Express down 2-0, the Nebraska junior powered a two-run home run over the left field fence to tie the game at two a piece.
Unfortunately for the Express, Scheffert's four RBI weren't enough as they fell 6-4 to the Woodchucks. Scheffert begins the season with .600 batting average as the Express prepare for the next game against the Woodchucks on Thursday in Eau Claire. First pitch is 6:35 p.m.