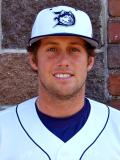 DULUTH, Minn. (June 5, 2012) – Duluth Huskies outfielder Michael Suiter (Kansas) was named the Northwoods League Player of the Night for Tuesday, June 5.
Suitor was 4-for-5 at the plate for Duluth in their 13-10 extra innings loss to the Mankato MoonDogs. The Kailua, Hawaii native knocked in two runs in the bottom of the second on an two-run double to center field. He also scored two runs for the Huskies and drew one walk.
The Huskies and MoonDogs will face off again on Tuesday with the first pitch scheduled for 11:35 p.m. in Duluth.