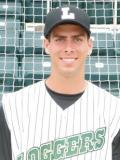 MEQUON, Wis. (June 11, 2012) – La Crosse Loggers starting pitcher Alex Gunn (Hinds CC) earned the honor of Northwoods League Pitcher of the Night for Monday, June 11.
The Clinton, Miss. native threw seven strong innings for the Loggers in their 6-1 win over the Lakeshore Chinooks. Gunn allowed just one run on six hits and struck out five Lakeshore batters. Gunn also walked just one batter. He improves to 2-0 on the season.
The Loggers will play Lakeshore again on Tuesday with the first pitch scheduled for 6:35 p.m.