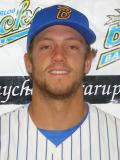 ROCHESTER, Minn. (June 11, 2012) – Waterloo Bucks outfielder Kevin Kaczmarski (Evansville) was named the Northwoods League Player of the Night for Monday, June 11.
Kaczmarski was 3-for-6 at the plate with three runs scored for the Bucks. The Cary, Ill. also drove in six runs for Waterloo. Kaczmarski hit a two-run home run in the top of the seventh and a grand slam in the top of the eighth to as part of Waterloo's blowout.
The Bucks and Honkers will be at it again on Tuesday night with the first pitch scheduled for 7:05 p.m.