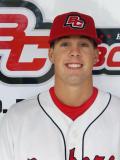 MADISON, Wis. (June 14, 2012) – Battle Creek Bombers starting pitcher Brian Valente (Eastern Michigan) earned the honor of Northwoods League Pitcher of the Night for Thursday, June 14.
Valente threw five innings for the Bombers and allowed no runs on just four hits. Valente also struck out five batters. Valente earned a no-decision in his efforts as the Bombers went on to lose, 5-3.
The Bombers and Mallards will square off again on Friday with a start time of 7:05 p.m.