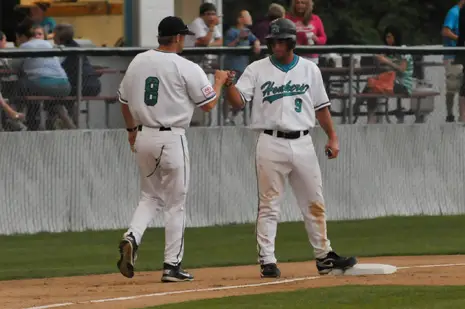 ROCHESTER, Minn. (June 16, 2012) – The rain became a factor again on Saturday around the Northwoods League. The Honkers and Huskies started roughly 90 minutes late due to rain and the Loggers and Woodchucks were forced to delay in the sixth inning for 2 hours and 45 minutes.
Green Bay 4, Eau Claire 7
The Express were led by Casey Gillaspie who was 2-for-3 with three RBI and and two runs scored. Gillaspie hit a go-ahead, two-run home run in the bottom of the seventh and Eau Claire was able to hold on. These two teams will face off again on Sunday for a 3:05 p.m. start in Eau Claire.
Alexandria 5, Waterloo 10
The Bucks were led by Sean Borman (St. Cloud State) who was just 2-for-5 at the plate but responsible for driving in four of Waterloo's runs. The Beetles and Bucks will play again in Waterloo on Sunday for a 3:05 p.m. start.
Thunder Bay 2, Willmar 6
Willmar saw a strong start by Jerad McCrummen (Texas Tech) who threw five innings and allowed just two runs on five hits while striking out seven. The Stingers will host the St. Cloud Rox will face off on Sunday for a 6:05 p.m. start time in Willmar. The Border Cats will travel to Duluth to take on the Huskies for a 5:05 p.m. start.
Battle Creek 6, Wisconsin Rapids 7
The Rafters were led by Pat Kelly (Nebraska) who drove in his eighth and ninth RBIs of the season. He was also 2-for-4 with a run scored and a stolen base. The Rafters will host the Bombers again on Sunday for a 1:05 p.m. start.
Lakeshore 5, Madison 6 (10 innings)
Madison's Tyler Marincov (North Florida) put a ball into play in the bottom of the tenth inning, which Lakeshore couldn't turn into a double play and the winning run scored for the Mallards. The Mallards and Chinooks will square off again Sunday at 3:05 p.m. in Madison.
Duluth 11, Rochester 1
After rain delayed the start of this one for an hour and 45 minutes, Duluth's Joey Novak (Harvard) pitched another gem of a game. He threw six innings and allowed just one run while striking out 11 Rochester batters. The Honkers will travel to Mankato on Sunday to begin a series with the MoonDogs. First pitch is scheduled for 6:05 p.m.
Wisconsin 9, La Crosse 10 (10 innings)
The Loggers won this game at 12:30 a.m. on Sunday on a walk-off base hit by Matt Chapman (Cal State Fullerton). This game also included a two hour and 45 minute rain delay in the bottom of the sixth inning. The Loggers will host the Woodchucks for the series finale on Sunday with a start time of 5:05 p.m.
Mankato 13, St. Cloud 6
The MoonDogs scored four runs in both the second and third inning to take an early 8-2 lead and never looked back. Mankato was led by shortstop Chris Munoz (Oklahoma City) who hit two, two-run home runs in back-to-back innings to propel the team in their win.