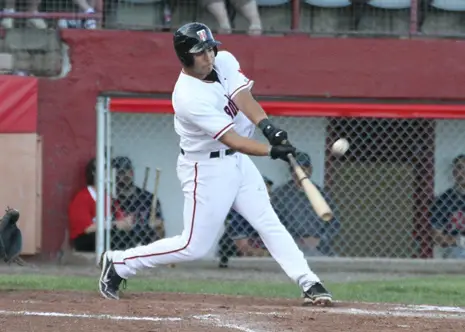 ROCHESTER, Minn. (June 22, 2012) – The top-dog Mankato MoonDogs were taken down in a big way by the Beetles, the La Crosse Loggers got back on the winning track in a close one with the Rafters and the Stingers won in walk-off fashion.
Eau Claire 2, Green Bay 16
The Bullfrogs were led by Brooks Orton who drove in three runs and scored twice while going 3-for-5 at the plate for Green Bay. These two will finish the series on Saturday in Green Bay beginning at 7:05 p.m.
Rochester 6, Willmar 7
Michael Suchy (Florida Gulf Coast) hit a walk-off solo home run in the bottom of the fourteenth inning to win the game for the Stingers. The Honker and Stingers will finish this short series on Saturday at 3:05 p.m.
Wisconsin 4, Battle Creek 2
Skyler Ewing (Rice) hit a two-run home run in the top of the seventh to give the Woodchucks the lead for good. Ewing finished 2-for-4 with two RBI and a run scored. The two teams will meet again on Saturday for the series finale at 7:05 p.m. ET.
Madison 5, Lakeshore 0
The Mallards were led by the start of Anthony Marzi who threw six shutout innings and struck out four. Madison also saw a strong two-inning relief effort from Danny Sullivan (Madison College) who struck out five. The series will shift to Madison for the finale at 6:35 p.m. on Saturday.
Mankato 3, Alexandria 12
The Beetles were led by Tanner Vavra (Valparaiso) who went 3-for-6 at the plate with three RBI and three runs scored. These two teams will square off again on Saturday for a 7:05 p.m. start.
Wisconsin Rapids 2, La Crosse 3
The Loggers were led by Tyler Kuresa (UC Santa Barbara) who went 3-for-4 with two RBI. The Rafters and Loggers will finish this series on Saturday when they play at 6:05 p.m.
Waterloo 9, Thunder Bay 0 (Game 1, 7 innings)
The Bucks starting pitcher Jordan Foley (Central Michigan) shut down the Border Cats and earned his fourth win of the season. Foley threw 5.1 shutout innings and allowed just four hits, while striking out five Thunder Bay batters.
Waterloo 2, Thunder Bay 3 (Game 2, 7 innings)
Omar Cotto (USC) may have only had one hit in game two of this double-header, but it was a crucial hit. Cotto's solo home run in the bottom of the fifth would be the difference in the game to earn a split of the double-header for the Border Cats. The Bucks and Border Cats will play a double-header again on Saturday beginning at 6:05 p.m. ET.