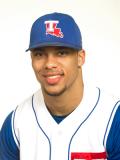 MADISON, Wis. (June 23, 2012) – Lakeshore Chinooks right fielder Bre Kimbell (Louisiana Tech) earned Northwoods League Player of the Night for Saturday, June 23.
Kimbell was 3-for-5 with seven RBI and two runs scored. He also drew a walk. Kimbell gave the Chinooks the early lead with a three-run home run to give the Chinooks an early 3-0 lead. He now has 17 RBI on the season.
The Chinooks went on to win the game, 11-5. Lakeshore has Sunday off before they travel to La Crosse on Monday to face the Loggers at 7:05 p.m.