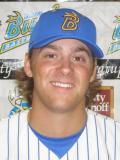 THUNDER BAY, Ontario (June 23, 2012) – Waterloo Bucks starting pitcher Jake Powers (Missouri State) earned the honor of Northwoods League Pitcher of the Night for Saturday, June 23.
Powers threw a complete-game shutout for the Bucks in their 7-0 win over the Border Cats. He allowed just four hits, walked none and struck out four batters. Powers is now 2-1 on the season.
Waterloo has Sunday off before they host the Duluth Huskies on Monday for a 6:35 p.m. start.