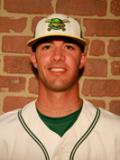 MADISON, Wis. (June 24, 2012) – Madison Mallards starting pitcher Matt LaMothe (Georgia College and State) earned the honor of Northwoods League Pitcher of the Night for Sunday, June 24.
LaMothe threw seven innings allowing just one run and one walk. He also struck out eight batters in the Madison 3-2 win. LaMothe improves his record to 3-2 on the season.
Madison will play against the Wisconsin Woodchucks on Monday in Wausau, Wis. at 6:35 p.m.