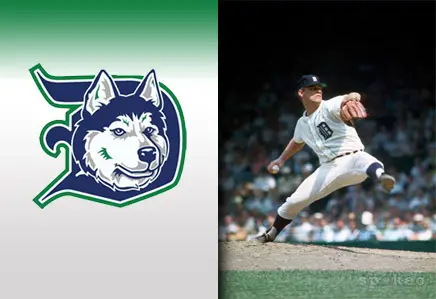 DULUTH, Minn. (June 25, 2012) – The Duluth Huskies are pleased to announce former member of the 1963 Duluth-Superior Dukes and the last player in Major League Baseball to win 30 games in a season, Denny McLain, will be returning to Wade Stadium on Friday, July 6 for the Duluth Huskies 7:05 PM game against the Rochester Honkers.
McLain started the 1963 season in Duluth at Wade Stadium as a member of the Dukes and started 18 games compiling an impressive 13-2 record with a 2.55 ERA, with 157 strikeouts in 141 innings. He made his Major League debut as a member of the Detroit Tigers in September of that year.
1968 proved to be a magical year for Denny McLain as he compiled a 31-6 record with a miniscule 1.96 ERA as he led the Tigers to the World Series Championship. No pitcher has since won 30 or more games in a Major League season. McLain won the 1968 Cy Young Award as the American League's best pitcher and shared the award in 1969, ironically enough, with Mike Cuellar who served as pitching coach for the Duluth-Superior Dukes in 1997 and 1998.
McLain will be throwing out the first pitch and will then be available in the Wade Stadium concourse signing autographs and taking pictures with fans. There will also be copies of his book, I Told You I Wasn't Perfect, available for purchase.
For more information on Denny McLain's visit to Wade Stadium or on the Duluth Huskies 2012 Season, please visit www.DuluthHuskies.com.
Gates will open at 6:05 PM on Friday, July 6. Tickets are available at the Wade Stadium Box Office or Online at www.DuluthHuskies.com.