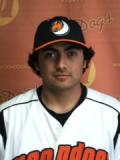 WATERLOO, Iowa (June 28, 2012) – Mankato MoonDogs shortstop Chris Munoz (Oklahoma City) earned Northwoods League Player of the Night for Thursday, June 28.
Munoz was 3-for-5 at the plate for Mankato, driving in five runs and scoring once. He had a three-run double in the fourth inning to give Mankato the 4-2 lead. Munoz added a two-run home run in the fifth to his line.
The MoonDogs went on to win the game, 11-3. This series will continue in Waterloo on Friday at 6:35 p.m.