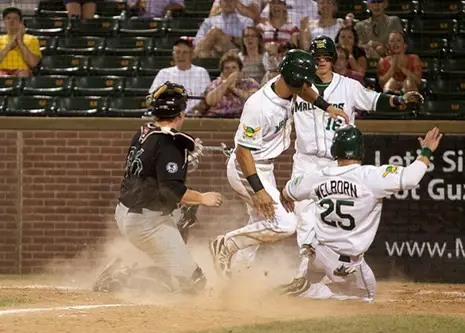 ROCHESTER, Minn. (June 29, 2012) – If you wanted to see a lot of runs scored on Friday, then the Northwoods League was the place to see it. Eight teams scored at least six runs and four scored 12 or more.
Rochester 1, St. Cloud 3
The Rox were led by Tadd Johansen (Wayne State) who picked up his second win of the season. Johansen threw seven innings and allowed just one run on five hits while striking out five. The Honkers will travel to Thunder Bay for a 7:05 p.m. ET start on Saturday and the Rox will travel to Mankato to face the MoonDogs at 6:05 p.m.
Mankato 14, Waterloo 3
The MoonDogs were led by J.M. Twitchell (UT-Arlington). Twitchell was 3-for-5 at the plate with three RBI and a run scored. He also recorded his second home run of the season. The Bucks will travel to Duluth for a 7:05 p.m. start on Saturday.
Willmar 6, Duluth 4
Willmar was led by Steven Brault (Regis) who was 3-for-4 at the plate with two RBI. The Stingers will host the Alexandria Beetles on Saturday beginning at 7:05 p.m.
La Crosse 4, Madison 18
Madison was led by Tyler Marincov (North Florida) and Mike Reuvekamp (California). The two players were a combined 7-for-9 at the plate, drove in nine of Madison's runs and scored five times. The Mallards will host the Loggers again on Saturday at 5:05 p.m.
Eau Claire 7, Wisconsin 12
It was an all-out team effort for the Woodchucks on Friday. Four players went 2-for-4 at the plate, with two of those driving in at least two runs. Mike Bernal (Oklahoma State) got on base for Wisconsin as he was 3-for-5 and scored four times. This series will shift to Eau Claire on Saturday for a 6:35 p.m. start.
Wisconsin Rapids 7, Lakeshore 5
Pat Kelly (Nebraska) was 3-for-5 at the plate for the Rafters with four RBi and a run scored to lead the team to the 7-5 victory. This series continues on Saturday at 3:05 p.m.
Thunder Bay 17, Alexandria 7
Scott Donley (Indiana) was 2-for-4 at the dish with a home run for the Border Cats. He drove in two runs in the game and scored three times.
Battle Creek 4, Green Bay 5 (11 innings)
Dustin McAlpine (Dallas Baptist) drove in Justin Seager (Charlotte) in the bottom of the 11th on a single to win the game for the Bullfrogs. Green Bay will host the Bombers again on Saturday at 7:05 p.m.