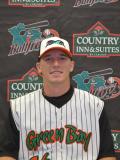 GREEN BAY, Wis. (June 29, 2012) – Green Bay Bullfrogs starting pitcher Bradley Wallace (Arkansas State) earned the honor of Northwoods League Pitcher of the Night for Friday, June 29.
Wallace threw six innings and allowed just one run on five hits for the Bullfrogs. He also struck out seven Bombers. Wallace's record stays at 3-0 with the no-decision and has an Earned Run Average of 0.84 on the season.
The Bullfrogs won the game, 5-4. Green Bay will host the Bombers again on Saturday at 7:05 p.m.