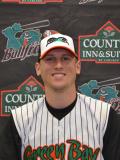 WAUSAU, Wis. (July 3, 2012) – Green Bay Bullfrogs starting pitcher Zak Hermans (Princeton) earned the honor of Northwoods League Pitcher of the Night for Tuesday, July 3.
Hermans threw seven innings and allowed just one run on five hits. He also struck out 10 Wisconsin batters. The win puts him at 3-1 on the season and gives him 38 strikeouts in 38 innings pitched in 2012.
The Bullfrogs won the game 6-1. Green Bay will host Wisconsin on Wednesday at 4:05 p.m.