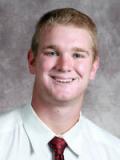 ST. CLOUD, Minn. (July 4, 2012) – St. Cloud Rox starting pitcher Zach Hirsch (Nebraska) earned the honor of Northwoods League Pitcher of the Night for Wednesday, July 4.
Hirsch threw eight innings for St. Cloud allowing just one earned run and striking out six Duluth batters. He also allowed no walks. He improves his record to 2-1 on the season.
The Rox won the game 4-2. The Rox will travel to Alexandria to face the Beetles on Thursday at 7:05 p.m.