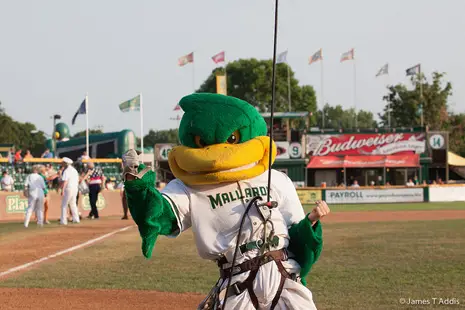 ROCHESTER, Minn. (July 6, 2012) – Friday brought a lot of excitement around the league. There were three walk-off wins, a pitching gem in Duluth and a big hitting streak reached 24 games for one Chinooks player.
Thunder Bay 4, Mankato 5
David Andriese (UC Riverside) entered the game as a pinch-hitter in the bottom of the eighth inning for Mankato and hit a go-ahead home run that would eventually be the game-winning run. The MoonDogs will host the Waterloo Bucks on Saturday at 7:05 p.m. while the Border Cats will host the Alexandria Beetles at 6:05 p.m. ET.
Rochester 1, Duluth 2
Joey Novak (Harvard) improved to 6-0 in seven starts as he threw seven shutout innings to help the Huskies to the 2-1 win. The Huskies will host a double-header against the St. Cloud Rox beginning at 5:05 p.m. on Saturday. The Honkers will host the Willmar Stingers at 7:05 p.m. on Saturday.
Green Bay 6, Wisconsin Rapids 7
The Rafters, trailing by one, put up two runs in the top of the ninth to pull ahead and hold on for the victory in Green Bay. The Bullfrogs will host the Rafters again on Saturday beginning at 7:05 p.m.
Willmar 7, Waterloo 12
The Bucks were led by Kevin Kaczmarski (Evansville) who went 2-for-3 with three RBI, two runs scored and drew two walks. He and teammate Benny Roberts (Washington State) tallied their fifth home runs of the season.
La Crosse 7, Lakeshore 8
Brian Anderson (Arkansas) took the first pitch he saw in the bottom of the ninth inning over the right field fence for a walk-off home run and Chinooks victory. Bre Kimbell (Louisiana Tech) continued his hitting streak, which is now at 24 games. The Chinooks will host the Loggers on Saturday with the first pitch scheduled for 6:35 p.m.
Eau Claire 6, Madison 8 (12 innings)
Tom Verdi (Connecticut) ended a wild one in the bottom of the twelvth with a two-run walk-off home run that he crushed to left field. The Mallards will host Eau Claire on Saturday for a 6:35 p.m. start.
St. Cloud 9, Alexandria 8
Erik Kozel (Colorado Mesa) hit a walk-off single in the bottom of the ninth to score Chris Paul (California) from third and get the Rox the 9-8 win.
Battle Creek 5, Wisconsin 9
J.D. Davis (Cal State Fullerton) was 2-for-3 at the dish with two RBI to help the Woodchucks. The Woodchucks will host the Bombers