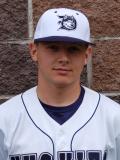 DULUTH, Minn. (July 6, 2012) – Duluth Huskies starting pitcher Joey Novak (Harvard) earned the honor of Northwoods League Pitcher of the Night for Friday, July 6. 
Novak threw seven shutout innings for the Huskies and looked dominant on the mound as he struck out six Rochester batters. He also allowed just two hits and walked one. Novak is now a league-leading 6-0 in seven starts with a 2.14 ERA. 
The Huskies won the game 2-1. The Huskies host a double-header with St. Cloud on Saturday beginning at 5:05 p.m.