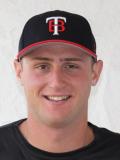 THUNDER BAY, Ontario (July 8, 2012) – Thunder Bay Border Cats starting pitcher Garrett Hughes (Stanford) earned the honor of Northwoods League Pitcher of the Night for Sunday, July 8.
Hughes threw six innings allowing one earned run on one hit. He also struck out five Alexandria batters. He picked up his first win of the season and is now 1-1 with a 1.62 ERA.
The Border Cats won the game 7-2. Thunder Bay will host the Beetles again on Monday at 7:05 p.m. ET.