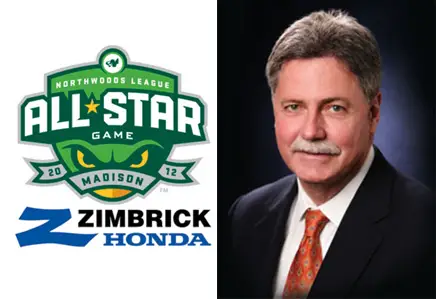 MADISON, Wis. (July 2, 2012) — The Madison Mallards will be hosting the Zimbrick Honda Northwoods League All-Star Game banquet featuring the Milwaukee Brewers President of Baseball Operations and General Manager Doug Melvin on Monday, July 23, at 6:00 pm.
The banquet will feature a steak and lobster dinner, followed by Melvin speaking and a question and answer session. Northwoods League President Dick Radatz and Mallards personnel will also be speaking and will be available during the question and answer session. All of the Northwoods League All-Stars will be in attendance (All-Star teams announced July 16th). Tickets for the event will be $35. Tickets can be purchased by calling the Mallards at 608-246-4277, going to Mallardsbaseball.com, or stopping by the Mallards ticket office.
In 2011 Melvin was named by Baseball America as Major League Executive of the Year, and in 2012 he was inducted into the Canadian Baseball Hall of Fame.
Melvin has been the Brewers GM since September 26, 2002. In 2008, the Brewers made the playoffs for the first time since 1982 and in 2011, they won the NL Central Division, and advanced to the NLCS before falling to the eventual World Series Champion St. Louis Cardinals.
Melvin began his career in baseball when he was a minor league pitcher in the Pittsburgh Pirates and New York Yankees system from 1972-1978. He then became an assistant scouting director for the Yankees and began the climb to the front office. He became the Assistant General Manager and Director of Player Development for the Baltimore Orioles in 1987 and would be there for eight seasons. He spent 1994-2001 as the General Manager for the Texas Rangers.
The evening will open the ceremonies for the Northwoods League All-Star Game at the "Duck Pond" on Tuesday, July 24. First pitch for the game is scheduled for 7:35 pm. The Northwoods League Home Run Derby presented by the Dane County Regional Airport will be at 6:00 pm. Gates for the game will open at 5:00 pm.
The Mallards return to the "Duck Pond" on Thursday, July 5, at 7:05 pm to start the second half with a three game series against the Eau Claire Express. That night will be Dr. Jay Hazen Dentistry for Madison Vintage Bobble Boy Night and Badger Honor Flight Military Appreciation Night.
The Madison Mallards are part of the 16-team Northwoods League. The Northwoods League has more teams, plays more games, and draws more fans than any other Summer Collegiate League in North America.