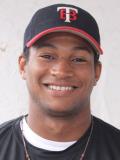 WATERLOO, Iowa (July 10, 2012) – Thunder Bay Border Cats center fielder Omar Cotto (USC) earned Northwoods League Player of the Night for Tuesday, July 10.
Cotto was 3-for-5 at the plate with four RBI and two runs scored. He also picked up three stolen bases to give him ten on the season. His grand slam in the top of the sixth broke a 6-6 tie and would be the eventual game-winning for the Border Cats.
The Border Cats won the game 10-6. Waterloo will host the Border Cats on Wednesday beginning at 6:35 p.m.