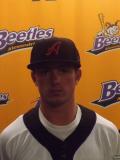 ALEXANDRIA, Minn. (July 12, 2012) – Alexandria Beetles left fielder Ben Moore (Alabama) earned Northwoods League Player of the Night for Thursday, July 12.
Moore went an amazing 5-for-5 at the plate with an impressive eight RBI. He also came across to score four times. He would also tally his eighth, ninth and tenth home runs on the season.
The Beetles won the game 15-5. Alexandria will travel to Duluth on Friday for a 7:05 p.m. start.
Thunder Bay's Adam Landecker (USC) also had a night to mention, as he went 6-for-6 at the plate with five RBI and three runs scored.