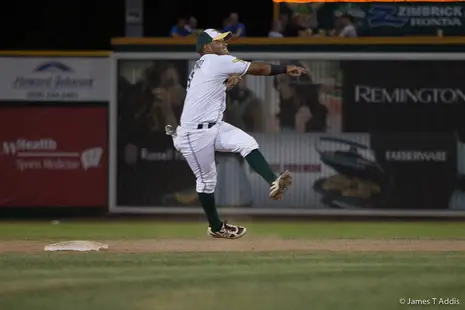 ROCHESTER, Minn. (July 13, 2012) – Friday the 13th brought bad luck to Rochester as the rain wouldn't stay away, while teams like Duluth and Willmar saw their bats come alive to help them earn their respective victories.
Alexandria 4, Duluth 11
Duluth was led by Michael Suiter (Kansas) who was 3-for-5 with four RBI and three runs scored, including two home runs to give him six on the season. The Huskies will host the Beetles again on Saturday for a 7:05 p.m. first pitch.
Mankato 4, Willmar 10
Dillon Haupt (San Diego) would hit two home runs to give him five on the season and lead the Stingers to a win. This series will shift to Mankato on Saturday for a 6:05 p.m. start.
Thunder Bay 12, Waterloo 11 (10 innings)
Phillip Lyons (Nicholls State) came across to score on an error by the Waterloo third baseman to give the Border Cats the one-run lead in the top of the tenth inning. The Bucks will host the Border Cats again on Saturday at 6:35 p.m.
St. Cloud 0, Rochester 2 (Suspended)
This game was suspended in the top of the fifth inning due to weather conditions in Rochester. The game will resume at 5:05 p.m. on Saturday with a seven-inning game to follow 30 minutes after the first game.
La Crosse 7, Wisconsin 8
Skyler Ewing (Rice) came across on a wild pitch in the bottom of the ninth inning for the walk-off win for the Woodchucks. The Loggers and Woodchucks will go at it again on Saturday at 6:35 p.m.
Wisconsin Rapids 10, Madison 8
The Rafters were led by Austin Neary (Western Carolina) who was 4-for-5 at the plate with three RBI and three runs scored. He also picked up his fifth home run of the season. Madison will host the Rafters again on Saturday at 6:35 p.m.
Eau Claire 2, Lakeshore 10
Joe Greenfield (South Suburban College) threw seven shutout innings and allowed just four hits and struck out nine. The Chinooks will host the Express again on Saturday at 3:05 p.m.
Green Bay 6, Battle Creek 7
Battle Creek was led by Sikes Orvis (Ole Miss) who was 2-for-5 with three RBI and a run scored. The Bombers will host the Bullfrogs on Saturday at 7:05 p.m. ET.