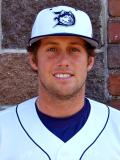 DULUTH, Minn. (July 13, 2012) – Duluth Huskies first baseman Michael Suiter (Kansas) earned Northwoods League Player of the Night for Friday, July 13.
Suiter went 3-for-5 at the plate for Duluth as he also drove in four runs and scored three times. He would also pick up his fifth and sixth home runs of the season.
The Huskies won the game 11-4. Duluth will host Alexandria on Saturday for a 7:05 p.m. start.