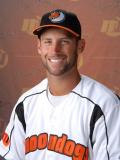 ST. CLOUD, Minn. (July 16, 2012) – Mankato MoonDogs left fielder David Andriese (UC Riverside) earned Northwoods League Player of the Night for Monday, July 16.
Andriese was perfect at the plate as he went 3-for-3 with two RBI and came across to score four runs for Mankato. He picked up his third home run of the season in the top of the third inning.
The MoonDogs won the game 8-2. The MoonDogs will host the Rochester Honkers on Tuesday for a 7:05 p.m. start.