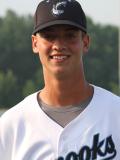 MEQUON, Wis. (July 16, 2012) – Lakeshore Chinooks starting pitcher Jason Hoppe (Mankato State) earned the honor of Northwoods League Pitcher of the Night for Monday, July 16.
Hoppe threw 7.2 shutout innings on Monday for the Chinooks and allowed just four hits. He also struck out five La Crosse batters. With the victory, Hoppe picks up his first win of the season and has a 2.42 ERA.
The Chinooks won the game 9-1. La Crosse will host Lakeshore again on Tuesday for a 7:05 p.m. start.