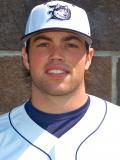 DULUTH, Minn. (July 20, 2012) – Duluth Huskies designated hitter Wade Wass (Meridian CC) earned Northwoods League Player of the Night for Friday, July 20.
Wass was an astonishing 5-for-5 with an impressive seven RBI and four runs scored. He blasted his third and fourth home runs of the season on a three-run shot in the bottom of the first and a solo shot in the bottom of the fifth.
The Huskies won the game 13-5. The Huskies will be host the MoonDogs again on Saturday for a 7:05 p.m. start.