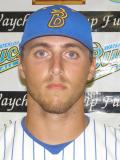 ALEXANDRIA, Minn. (July 21, 2012) – Waterloo Bucks catcher Dan Sheppard (Iowa) earned Northwoods League Player of the Night for Saturday, July 21.
Sheppard was 3-for-5 with four RBI and two runs scored for the Bucks. He also drew a walk from the Alexandria pitching staff. He would double twice to give him a total of seven on the season.
The Bucs won the game 13-8. The Beetles will host the Bucks again on Sunday for a 3:05 p.m. start.