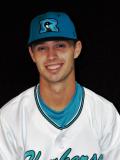 ST. CLOUD, Minn. (July 22, 2012) – Rochester Honkers catcher Cole Lankford (Texas A&M) earned Northwoods League Player of the Night for Sunday, July 22.
Lankford went 2-for-4 with five RBI and a run scored. Lankford started his night with a grand slam in the top of the first inning. It was his second home run of the season and he now has 17 RBI on the year.
The Rox won the game 7-6.