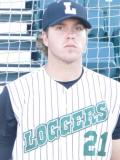 LA CROSSE, Wis. (July 30, 2012) – La Crosse Loggers center fielder Richard Prigatano (Long Beach State) earned Northwoods League Player of the Night for Monday, July 30.
Prigatano went 2-for-4 at the plate with four RBI and two runs scored. He would tally his eighth home run of the season and his 13th double. He also now has 38 RBI on the year and 14 stolen bases.
The Loggers won the game 7-1. La Crosse will host the Mallards on Monday for a 7:05 p.m. start.