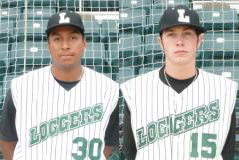 LA CROSSE, Wis. (July 31, 2012) – La Crosse Loggers starting pitcher Jesse Holiday (Southern) and reliever Jacob Dorris (Texas A&M-Corpus Christi) earned the honor of Northwoods League Pitchers of the Night for Tuesday, July 31.
Holiday and Dorris combined for La Crosse's second franchise no-hitter. Holiday threw seven innings and allowed no runs on no hits and struck out seven batters. Dorris threw the final two innings sealing the no-hitter for the Loggers.
The Loggers won the game 10-0. La Crosse will host the Mallards on Wednesday for a 7:05 p.m. start.