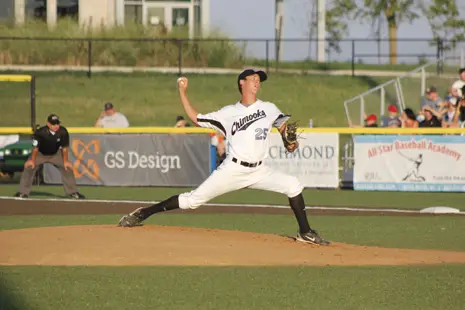 ROCHESTER, Minn. (August 1, 2012) – The Willmar Stingers blew out the Honkers to gain another game in the North as both the Huskies and Border Cats lost on Wednesday.
The Mallards pulled off an extra-inning win against the Loggers to try and keep pace with the Woodchucks who have a five-game lead over Madison.
Mankato 3, Thunder Bay 1 (10 innings)
Adam Mott (New Mexico State) earned his fifth win of the season as he threw nine innings and allowed just one run on six hits. The Border Cats will travel to St. Cloud to take on the Rox at 7:05 p.m. on Thursday. The MoonDogs have the day off.
Rochester 3, Willmar 20
Kenny Roberts (Alabama) went 4-for-5 with four RBI and two runs scored and regained the league lead in home runs as he connected for his 14th of the season. Michael Suchy (Florida Gulf Coast) drove in his 57th RBI which is a new franchise record for Willmar. The Honkers will travel to Waterloo to take on the Bucks at 6:35 p.m. and the Stingers will host the Duluth Huskies at 7:05 p.m.
St. Cloud 5, Alexandria 4
After the Beetles scored three in the top of the ninth to tie the game, Nick Tanielu (Washington State) would hit a walk-off single in the bottom of the ninth to give the Rox the victory. The Beetles have Thursday off.
Waterloo 6, Duluth 4
The Bucks put up six runs in the top of the fourth, including Jordan Adams' (Central Michigan) three-run double.
Madison 7, La Crosse 6 (11 innings)
John Welborn (UT-San Antonio) hit his second home run of the night in the top of the 11th to give the Mallards the lead, which would hold for the win. The Loggers will host the Bullfrogs on Thursday for a 7:05 p.m. start. The Mallards will travel to Eau Claire to take on the Express at 6:35 p.m.
Lakeshore 4, Battle Creek 0
Ryan Harris (Florida) threw 8.1 shutout innings for the Chinooks and allowed just five hits and struck out six. The Chinooks will host the Woodchucks on Thursday at 6:35 p.m. and the Bombers will travel to Wisconsin Rapids for a 7:05 p.m. start.
Wisconsin Rapids 7, Eau Claire 14
Ryan Shober (UIC) went 3-for-5 with four RBI and three runs scored. Shober hit his third home run of the season and now has 20 RBI on the year.
Wisconsin 7, Green Bay 1
Austin Pettibone (USCB) threw seven innings and allowed just one run on two hits. He also struck out eight Green Bay batters. He's now 3-3 on the season with a 5.61 ERA.