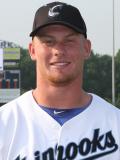 MEQUON, Wis. (August 1, 2012) – Lakeshore Chinooks starting pitcher Ryan Harris (Florida) earned the honor of Northwoods League Pitcher of the Night for Wednesday, August 1.
Harris threw 8.1 shutout innings for the Chinooks. He allowed just five hits and struck out six batters. He is now 1-2 on the season with a 1.70 Earned Run Average.
The Chinooks won the game 4-0. Lakeshore will host the Woodchucks on Thursday for a 6:35 p.m. start.