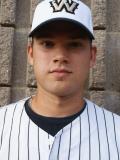 MEQUON, Wis. (August 3, 2012) – Wisconsin Woodchucks starting pitcher Austin Sadler (Wake Forest) earned the honor of Northwoods League Pitcher of the Night for Friday, August 3.
Sadler threw five perfect innings for the Woodchucks. He allowed no hits, no runs and walked none. He improves to 2-0 on the season with a 2.00 ERA.
The Woodchucks won the game 5-1. Wisconsin will host the Chinooks on Saturday for a 6:35 p.m. start.