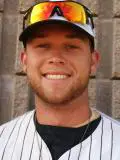 WAUSAU, Wis. (August 4, 2012) – Wisconsin Woodchucks center fielder Eric Filia-Snyder (UCLA) earned Northwoods League Player of the Night for Saturday, August 4.
Filia-Snyder was 2-for-4 at the plate with six RBI and a run scored. He connected for his fifth home run of the season in the bottom of the seventh inning and now has 32 RBI on the season.
The Woodchucks won the game 14-5. Wisconsin will host the Rafters on Sunday for a 5:05 p.m. start.