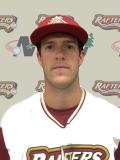 WISCONSIN RAPIDS, Wis. (August 6, 2012) – Wisconsin Rapids Rafters starting pitcher Bo Henning (Sacramento CC) earned the honor of Northwoods League Pitcher of the Night for Monday, August 6.
Henning threw six innings, allowed one run on four hits and struck out 11 Wisconsin batters. Henning earned his fourth win of the season, but it was his first as a member of the Rafters. He now has an ERA 3.93.
The Rafters won the game 11-1. Battle Creek will host the Rafters on Tuesday for a 7:05 p.m. ET start.