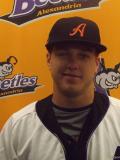 ALEXANDRIA, Minn. (August 6, 2012) – Alexandria Beetles second baseman Tanner Vavra (Valparaiso) earned Northwoods League Player of the Night for Monday, August 6.
Vavra went 3-for-5 with four RBI and two runs scored. Vavra gave the Beetles valuable insurance runs in the bottom of the fifth has he hit a two-run triple to right field. He now has 36 RBI on the season.
The Beetles won the game 10-7. Willmar will host the Beetles on Tuesday for a 7:05 p.m. start.