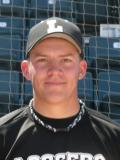 LA CROSSE, Wis. (August 7, 2012) – La Crosse Loggers right fielder Bobby Juan (Minnesota) earned Northwoods League Player of the Night for Tuesday, August 7.
Juan went 2-for-4 with six RBI and three runs scored. He hit his sixth double and ninth home run of the season and now has 34 RBI on the year. He also came to the mound in the top of the ninth and struck out the side in order for the Loggers to seal the victory.
The Loggers won the game 17-2. La Crosse will host the Woodchucks on Wednesday for a 7:05 p.m. start.