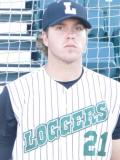 LA CROSSE, Wis. (August 8, 2012) – La Crosse Loggers center fielder Richard Prigatano (Long Beach State) earned Northwoods League Player of the Night for Wednesday, August 8.
Prigatano went 3-for-5 at the plate with five RBI and a run scored for the Loggers. He hit his 10th home run of the season and now has 47 RBI on the year.
The Loggers won the game 18-2. La Crosse will host the Woodchucks on Thursday for a 7:05 p.m. start.