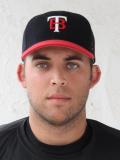 THUNDER BAY, Ontario (August 8, 2012) – Thunder Bay pitcher Chad Richie (Georgetown College) earned the honor of Northwoods League Pitcher of the Night for Wednesday, August 8.
Richie threw 2.1 innings of relief and allowed no runs on one hit. Richie also struck out seven of the eight batters he faced. He's now 3-3 on the season with a 4.42 ERA.
The Border Cats won the game 13-3. Thunder Bay will host the Huskies on Thursday for a 7:05 p.m. ET start.