Iovieno Hired as Bombers Assistant General Manager
December 11, 2012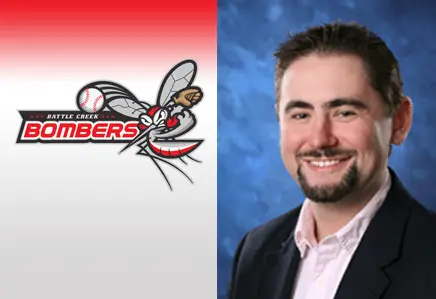 Battle Creek, MI – The Battle Creek Bombers have named Anthony Iovieno as the franchise's next Assistant General Manager. General Manager Brian Colopy made the announcement on behalf of the Bombers organization. Colopy added, "Anthony brings a tremendous amount of experience and enthusiasm to our organization. He fits in perfectly to our plans and we couldn't be happier to have someone of his caliber in Battle Creek."

Iovieno possesses a wealth of baseball experience, working in Major and Minor League Baseball, as well as Collegiate Summer Ball. After spending over five seasons with the Boston Red Sox in Event Operations, Iovieno served as the Director of Operations and Food & Beverage for the Hagerstown Suns in 2011, the Single-A Affiliate of the Washington Nationals. This past season, Anthony worked as the Assistant General Manager for the North Shore Navigators, a collegiate summer ball franchise in the Futures Collegiate Baseball League (FCBL).

The 28-year-old Iovieno was enthused to be named the new Bombers AGM.

"I'd just like to thank the Radatz family and General Manager Brian Colopy for providing me with this amazing opportunity. I can't wait to do absolutely everything I can to continually improve the Bomber experience for our wonderful fans. The entire Battle Creek community has been so accommodating and so welcoming. Battle Creek is quickly beginning to feel like home."

The Battle Creek Bombers are members of the prestigious Northwoods League that has more teams, plays more games, and draws more fans than any other summer collegiate baseball league in America. The team is set to kick off their 7th season in Battle Creek in June of 2013. The 2013 schedule is set to be released early next month. For tickets call (269) 962-0735 or visit BattleCreekBombers.com.