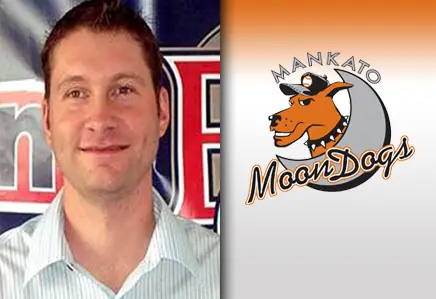 Smith spent time with the Mankato MoonDogs in 2002
Former Mankato MoonDogs Assistant GM Kyle Smith was recently named the Executive of the Year in the Florida State League. Smith who is currently the GM with the Brevard County Manatees spent the 2002 season in Mankato with the MoonDogs. The Manatees are the high A affiliate of the Milwaukee Brewers.
"Starting my baseball career in the Northwoods League is something that I'm very proud of. My experiences in Mankato provided a solid foundation for my development as a baseball executive.The NWL continues to provide top-notch development for both players and executives alike" said Smith.
The Florida State League also nominated the Brevard County Manatees as the nominee for the Larry MacPhail Award for the 2012 season.
One overall winner of the Larry MacPhail Award was selected at the 2012 Baseball Winter Meetings in Nashville in December, as each of the 15 leagues throughout Minor League Baseball each had one team nominated.
The nominees were selected by the league's directors and general managers.
The Larry MacPhail Award is given to a club that demonstrates outstanding and creative marketing and promotional efforts within its community, its ballpark (including non-game day events), in media and other promotional materials.
The overall winner for the 2012 season was the Wisconsin Timber Rattlers. The Timber Rattlers are the low A affiliate of the Milwaukee Brewers and play their games at Fox Cities Stadium in Appleton, Wisconsin.
Brevard County was the last Florida State League organization to win the Larry MacPhail Award as the Manatees brought home the honor back in 2005.
In 2013, the Brevard County Manatees will celebrate their 20th season at Space Coast Stadium.