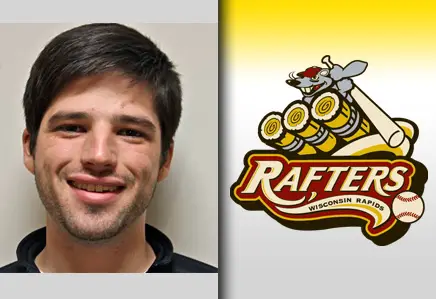 Berlin spent 2012 summer in MLB with Tampa Bay Rays
Wisconsin Rapids, WI – January 15, 2013. The Wisconsin Rapids Rafters of the Northwoods League are pleased to announce the recent addition of Aaron Berlin as the new radio voice of the team for the 2013 season. He will take the place of Nathan Barnett, who was the broadcast voice for the Rafters last summer.
In addition to calling all 70 Rafters games on WFHR (1320 AM) with all home games additionally simulcast on nwltickets.com, Berlin will act as the team's traveling secretary and media relations coordinator, while assisting with additional video, audio, and graphic projects.
"I'm extremely grateful for the opportunity to serve as the play-by-play voice for the Rafters this summer," said Berlin in a statement. "Baseball and broadcasting have always been great passions of mine, and I've been fortunate to have had the opportunity to learn this great game from some of the best in the business in Neil Solondz, Dave Wills, and Andy Freed (Tampa Bay Rays Broadcast team). I can't begin to explain how excited I am to produce a broadcast that Rafters fans can call their own."
Berlin will bring tremendous experience to the broadcast booth this summer. He is currently serving as a Broadcast Assistant for the University of Kansas baseball team. In this role, Berlin will serve as the producer and engineer for all 56 games this spring for the Jayhawks, as well as providing play-by-play for three innings of each game. He will work with the accomplished Tom Hedrick, who has been the voice of the University of Kansas baseball for the past 37 seasons and whose résumé also includes stints as radio play-by-play broadcaster for KU basketball, the Kansas City Chiefs of the National Football League, and the Cincinnati Reds and Texas Rangers of Major League Baseball.
Berlin has some Major League Baseball experience under his belt as well. Last summer Berlin served as Production Assistant for the Tampa Bay Rays and Rays Radio. Berlin wore a host of hats while with the Rays, some which included writing and producing radio spots, engineering over 35 remote radio broadcasts, serving as fill-in emcee during Rays Radio sponsored events, and writing recaps and proposals for Rays corporate partners.
Prior to his summer with the Tampa Bay Rays, Berlin worked as Production Assistant for the Jayhawk IMG Sports Network, where he served as producer and engineer for Kansas women's basketball games. He also engineered pre and postgame remotes during the 2012 Kansas football season.
In 2010, Berlin was the Sports Director for the student radio station 90.7 KJHK FM, where he oversaw six hours of weekly sports talk programming on the station. As a sophomore, he also called KU football, men's and women's basketball and baseball games.
The Wisconsin Rapids Rafters are members of the 16-team summer collegiate Northwoods League. The Northwoods League has more teams, plays more games, and draws more fans than any other Summer Collegiate League in North America. In 2013 the Northwoods League will celebrate its 20th season.
Opening Day at historic Witter Field is scheduled for Wednesday, May 29th at 7:05 pm against the Lakeshore Chinooks. Reserve your 2013 ticket packages today by calling 715-424-5400, or in person by stopping by the Rafters office at Witter Field. Available quantities of all promotional giveaways will vary from event to event and will be available on a first come, first serve basis.
The best way to guarantee giveaway items is to purchase a 9-Game Package. The offseason office hours are Monday through Friday from 9am-5pm. For more information, visit www.raftersbaseball.com.