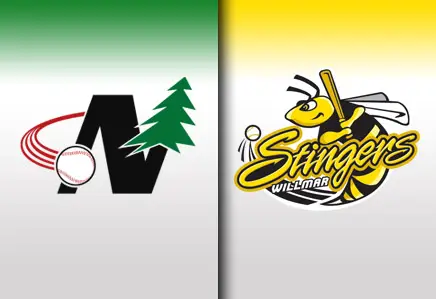 Roster takes shape as team prepares for 4th season of Northwoods League Baseball
(Willmar, MN) – The Willmar Stingers this week have announced the signing of three infielders and a catcher to the upcoming 2013 roster. Following the latest players to sign, the Stingers now have 15 players signed to contracts for the fourth season of Northwoods League Baseball, which will open on Wednesday, May 29th at Bill Taunton Stadium.
Joining the club this summer will be freshman infielder Max Dutto (University of California-Berkeley), sophomore infielder Alec Sole (Saint Louis University), junior infielder Jake Gronsky (Monmouth University), and sophomore catcher Kyle Perry (Monmouth University).
Dutto, a 5-foot-11 inch, 195 pound infielder can play three infield positions (SS, 3B, 2B) and is currently making an impact as a freshman in the Cal Bears line-up. He is also the third Cal player to play in Willmar joining former players Seth Spivack (2010) and Mitch Delfino (2010, 2011). Dutto will be united by summer teammates in Sole and Gronsky.
Sole, 6-foot-2, 200 pound shortstop set a school record with 197 assists as a freshman and started 55 games. Sole is a disciplined hitter who only struck out 15 times in 188 at bats last season with the Billikens. He will also join teammates Nick Bates and Danny Brennan who signed with Willmar last month.
For the first time in franchise history, the Stingers have signed two players from Monmouth University. Making their debut will be teammates Jake Gronsky and Kyle Perry.
Gronsky, a 6-foot-1, 185 pound infielder was named to the 2012 All-Northeast Conference First Team and All-NEC Tournament team last year. He started all 59 games, primarily at second base and led the team with a .313 batting average.
Perry, a 5-foot-10 inch, 170 pound catcher was the Monmouth's primary catcher last year, seeing action in 50 games. So far this spring Perry has played in the first 7 contests and is second on the team in hitting, with a .276 average.
"With the returners we have coming back and the latest guys to sign, we feel like the roster is taking shape and I look forward to taking the field in May." Stingers Manager Matt Hollod said.
The 2013 roster will be compiled of 30 players across the country and the roster will continue to take shape in the upcoming months. For more information on the recent players to sign and all Stingers information, visit www.willmarstingers.com. The 2013 Willmar Stingers season is presented by Charter.